Southdown Horse Stable
We find many of our commercial customers select this range due to it durability, flexibility and as this popular range is the backbone of our business, we offer a package as standard which most of our competitors struggle to match, both on price and, more importantly, quality.
One feature we'd like to point out is our OSB lined roof, a rarity amongst other suppliers but supplied as standard by Broadfield. The lining not only supports the onduline roof preventing sagging but gives diagonal strength to your Stable.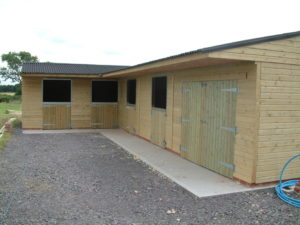 With front guttering, plywood lined 1050mm overhang as standard in the Southdown Range it has a high specification at a very competitive price.
There are, of course, many different 'extras' that can be incorporated into this range to make your yard that little bit different.
Key benefits
63x38mm (75x50mm cls) framework
ex 19mm (3/4") shiplap cladding
100x50mm roof purlins
1050mm overhang lined with hardwood plywood
Front guttering with downpipes
Pressure treated throughout
Eaves height 2300mm
11mm osb roof lining
Profiled door posts
18mm OSB kickboards
Please see specification sheet for full details.
Click on the price list to view, and remember all our prices include VAT.
Why not also see what options are available to customize your stables